All New Vortex 3 Is Now Here
Localbiz Vortex 3 is Now Here
Well, after meeting with some unexpected delays and obstacles, I am delighted to announce that Localbiz Vortex 3 is Now Here and ready for action!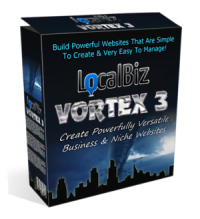 Vortex 3 Is Vastly Different to Vortex 2, and not only in terms of features,… we've rewritten a ton of code to make it lighter and faster, and fully compatible with the latest version of WordPress (4.3.1 at present),.
We've got over 20 New Features for you that I believe you'll find amazing!
Localbiz Vortex 3 now replaces WP-Localbiz, Localbiz Vortex 2, and Vortex Site Builder. LBV2 is still available in the members area as is Vortex Site Builder .
Anyone that bought or upgraded to any of those products during the last 12 months will be automatically upgraded to Localbiz Vortex 3 for free! Anyone needing to purchase an upgrade from an existing license can do so for only 40% of the cost of a full licence! (that's 60% off!)
I'm preparing a video now as a run through of the main new features, but for now I've listed them below so you can get a clearer idea of what you're getting in LBV3, which is lighter, faster & almost completely recoded, fully WP compliant, and 2016 ready!
Over 20 New Features Included:
New Nivo Slider with added variety of sliding gallery effects
New Nav Bar Menu option allows either *Button or *Ribbon type menu tabs. Also control padding under the tabs between top of header, and has control for tab height and tab borders.
Auto activated collapsible menu when sites being viewed in mobile devices.
New Control Panel tab for  "Custom CSS" (make your custom styles "upgrade proof")
Secondary "Top Thin Banner" to allow for extra info, ticker-tape texts or social media (short_code enabled). Plus option for resizing of texts & toggle switch for style-switcher.
New option to increase margin around site wrapper (creates space above header & below footer to give added styling effects).
New option to create "Plain Container" background for pages (create blank canvass pages for custom styling and sales page types)
New widget created to enable recreation of Featured Sidebar content (CTA's etc.) in custom sidebars.
New short_code button added to WP editor to create "flashing text" anywhere.
New Template (Full Page + Featured Sidebar) Removes sliding panel and testimonial box but retains the featured sidebar with CTA side widget
Option to Show/Hide The CTA top arrow/box on selected pages
Custom Widgets for any page: Create different header or sidebar widgets using CTA arrow or custom box/image/video/text for any page
Show/Hide default WP header title text when using a custom header background (allows use of the effects text header tool or a custom text embedded into the header background graphic.
Selectable colors of site-wide links (hover/active/visited). This allows you to make links very visible no matter what color scheme you have used!
Quote Rotator (Testimonials) short_code that allows you to feature the quote rotator in featured text box or sidebars.
Full-Width Sliding Gallery (can place the Quote Rotator elsewhere now).
Color picker for the right hand sidebar (with opacity control)
Show/Hide option for Top-Middle-Bottom lines of text in the Featured (CTA) Sidebar. This is a very handy control that can save a lot of time.
Transparent CTA arrow/box background added so that only fancy text shows without any CTA background showing (by popular request)
Site Wizard now has "Working" icon and notification that site has been created.
To see some of the features operating on a live site, just take a look at the main LVB3 demo site (opens in lightbox or right cick and "open in new tab").
If your license hasn't been renewed or upgraded within the past 12 months, then you'll need to purchase an upgrade to LBV3 which at the 60% Off Upgrade  prices we have on offer, is very affordable and locks you in for another year of free upgrades and premium support.
Go now to the Localbiz Vortex 3 Upgrade Special Offer Page and lock in your super discounted license upgrade and get ready for a great year ahead with Localbiz Vortex 3 in 2016!
Please feel welcome to leave a comment and join in the conversation,.. and stay tuned for more updates and exciting news.