Localbiz Vortex 3.5 Is Coming
Localbiz Vortex 3.5 Is Coming
Almost exactly 1 year after we release Localbiz Vortex 3, I'm now pleased to announce the  impending release of Localbiz Vortex 3.5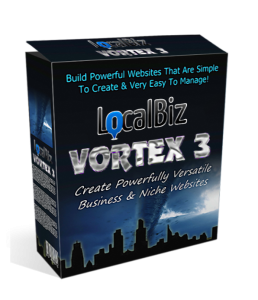 The new V3.5 version features some major new improvements which take Localbiz Vortex 3 one important step onward.
I expect that V3.5 will be ready for release in the first week of November 2016. Scheduled for November 5th. There'll be an email notification going out about it.
Basically, we've placed a primary focus on styling and design improvement for Vortex 3.5. This version upgrade has been the most expensive upgrade that we've ever done. And that's due to the many radical changes to the styling and to the overall functionality. Several of the new functions have required many hours and hundreds of lines of new code to be written to make them possible.
When we introduced Vortex 3 a year ago, it had over 20 totally new features and functions. There was quite a lot of emphasis on styling improvements, and with that, we rolled out the Custom CSS sheet to make it really simple for web designers to roll their sleeves up and use custom CSS to create some radically different look and feel scenarios for their Vortex sites. However, for "ordinary" mortals  that aren't so familiar or comfortable with using CSS, it was a little daunting. So with that in mind, we've of course retained the Custom CSS control, but also we've added some point and click styling options where you don't need to know a single line of code or CSS.
Anyone that bought or upgraded to Localbiz Vortex 3 during the last 12 months will be automatically upgraded to Localbiz Vortex 3.5 for free! Any one needing to purchase an upgrade from an existing license will be able to do so for a fraction of the cost of a full licence during the first week of the new release!
Localbiz Vortex 3.5 is a fully compliant and compatible, independent WordPress theme, which means that you remain in full control of its use and deployment. New licenses all come with Developer options which allows you to build, deploy and sell as many as you like without any further cost or monthly fees. It doesn't matter whether you make 10 sites, 100 or 1000,… you'll never have to pay per quantity for the sites you create and sell.
Your license comes with 12 months of free upgrades and elite support. That means that you'll have access to all upgrades and 24 hour direct support included with your license. We will be activating and updating a Localbiz Vortex support forum as well which has dozens of tutorial and "How To" posts that you can learn from, as well as interacting with. Seriously, the support alone will be worth more than the cost of a license renewal/upgrade. We have many testimonials from members that will attest to how we have helped them out and on many occasions provided hands-on support to assist them in getting rolling or fixing a problem.
Some of the new V3.5 features include;
A completely new full width styling option for featured panel pages. (see demo mockup/not using V3.5)
Shadow text effects and text height control for headlines. This now means that you can create awesome looking headline text effects in your sales pages and landing pages.
A new function to create a 3 widget footer section.
A new function to create double widget and triple widget page sections
Ability to run ticker tape text in the top thin banner
Accordion function for pages and posts to hide content (see demo here)
A full width option for header/logo (overrides CTA arrow)
A new ability to place a menu in the top ribbon right or left side
A new option for the top thin banner style width to be extended from 660px to 970px
A new improved Ajax style mobile collapsible menu
Click on images below to see full sized image in lightbox.
| | |
| --- | --- |
| | |
| | |
| | |
| | |
I hope that you'll like the all new Localbiz Vortex 3.5 and that you'll be able to create lots of new types of sites with it. I can sincerely say that with this new release of Vortex 3.5 that we're entering a new era of design potential and versatility not previously seen with Localbiz Vortex or with any other dedicated localbiz and niche website creation software.
EDIT UPDATE: Friday November 18th 2016: We are almost there with the release of Vortex 3.5. This weekend should see us through the final stages of testing and tweaking. Thanks for your patience. We are running several days behind schedule but getting closer to the awesome final product by the day.
Please feel welcome to leave a comment below.