Localbiz Vortex 3.5 Is Now Here
Localbiz Vortex 3.5 is Now Here
I am delighted to announce that Localbiz Vortex 3.5 stable (non-beta) version is Now Here and ready for action!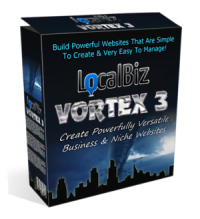 Vortex 3.5 comes with 13 new features and 44 built-in custom styles. In the past 2 weeks alone we've updated the theme 4 different times and we can now safely say that V3.5.0.5 is a stable (non-beta) version. That doesn't mean that its guaranteed as being totally bug free (if you find any bugs please report them via the Support desk), but it does mean that you can confidently put it to work.
The  New Features are quite awesome and I believe you'll find them simply amazing!
Localbiz Vortex 3.5 now replaces WP-Localbiz, Localbiz Vortex 3.0. LBV3.0 is still available in the members area as Legacy Version 3.0.0.7
Anyone that bought or upgraded to any of those products during the last 12 months will be automatically upgraded to Localbiz Vortex 3.5 for free! Anyone needing to purchase an upgrade from an existing license can do so for only 30% of the cost of a full licence! (that's 70% off!) Edit: You can also get another 20% off that at checkout over the Xmas period by using discount code "XTRA20-OFF" at checkout.
I'm preparing a video now as a run through of the main new features, but for now I've listed them below so you can get a clearer idea of what you're getting in LBV3.5, which is lighter, faster & almost completely recoded, fully WP compliant, and 2017 ready!
At the same time as creating Vortex 3.5, we totally upgraded all the files for V3.0 to improve mobile responsive styling and also to squash some bugs and make totally compliant with WordPress 4.7.
Vortex 3.5 has been one of our biggest and most costly upgrades to date, with 725  coding differences attended to and 23 file changes.
Over 13 New V3.5 Features Included:
New Full-width styling option for the Top Thin Banners.
New position switch/flip option for the Top Thin Banners.
New ability to run news ticker text as well as html and hyperlinks in Top Thin Banners.
New Nav Bar Menu option for  *Full Width Ribbon type menu tabs.
New option to place the menu bar in the Top Thin Banner (left or right position).
New Modern style collapsible menu for mobile devices (now choose between "Modern" & "Native").
New robustness of  "Custom CSS" (to make your custom styles "upgrade proof" and save custom CSS as new "custom styles" in the "General" tab button).
New "Full Width" styling option for the Header graphic (choose between 660px and 970px widths).
8 new Main Background images included to enhance styling options.
New styling option to "Add Shadow & Rounded Corners to Featured Sidebar" (a great effect).
New Footer Widget which allows you to create 1 to 4 widget sectioned Footer Widget.
New "Shadow Effect" button added to the page & post editor so you can add distinctive looking shadow effects to text in headlines or in fact anywhere you choose.
All "Tooltip" Help descriptions have been totally updated to help you better navigate the new controls.
12 new styles added, including 10 new "Full width menu bar" styles that give a totally different look & feel. (Click to open demo site showing new styles,.. and old updated styles too – Click on the "New Styles" tab).
Updated "Base Site Creation Wizard" to reflect new styling and making the process easier to use.
To see some of the features operating on a live site, just take a look at the main LVB3 demo site (opens in a new tab").
Check out the latest videos we've just created featuring Vortex 3.5 [wp_lightbox_prettyPhoto_anchor_text_video link="https://youtu.be/1Vx2D9n_iCE" width="960″ height="540″ text="Video 1 – New Full-Width Ribbon Styles: (4 min/39 secs)" description="Click to watch video in lightbox"] 
[wp_lightbox_prettyPhoto_anchor_text_video link="https://www.youtube.com/watch?v=VUPAZCEN_Kw" width="960″ height="540″ text="Video 2 – New Shadowed Text Feature: (3 min/13 secs)" description="Click to watch video in lightbox"] 
[wp_lightbox_prettyPhoto_anchor_text_video link="https://www.youtube.com/watch?v=tGcfCR7CjyM" width="960″ height="540″ text="Video 3 – Overview of V3.5 New Features: (3 min/48 secs)" description="Click to watch video in lightbox"] 
If your license hasn't been renewed or upgraded within the past 12 months, then you'll need to purchase an upgrade to LBV3 which at the 60% Off Upgrade  prices we have on offer, is very affordable and locks you in for another year of free upgrades and premium support.
Go now to the Localbiz Vortex 3 Upgrade Special Offer Page and lock in your super discounted license upgrade and get ready for a great year ahead with Localbiz Vortex 3.5 in 2017!
Please feel welcome to leave a comment and join in the conversation,.. and stay tuned for more updates and exciting news.